Sandrine Morgante | About
Sandrine Morgante (b. 1986 in Liège, BE lives and works in Brussels, BE), grew up in the countryside near Liège, studied at La Cambre drawing department, Brussels, where she has been a teacher's assistant, before starting a residency at HISK in Gent, BE. Her work has been shown in Belgian art venues like IKOB, WIELS, Art Contest, Boverie, SPACE and as international contributions in magazines such Archivio magazine, Revue Roven, Kluger Hans, and TIM. Focusing on literature, writings and act of speaking, her drawings are the continuation of handwritings which mirror the voices of her sound pieces or dialogue's memories.
Sandrine Morgante (née en 1986 à Liège, BE, vit et travaille à Bruxelles, BE), a grandi dans la campagne liégeoise, a étudié au département de dessin de La Cambre à Bruxelles, BE, où elle a été assistante de professeur, avant de commencer une résidence à HISK à Gand, BE. Son travail a été exposé dans des institutions belges telles que IKOB, WIELS, la Boverie, la SPACE, ou à l'occasion de Art Contest, mais aussi sous forme de contributions aux magazines Archivio, la Revue Roven, Kluger Hans et TIM. S'intéressant à la littérature, aux écrits et à l'acte de parler, ses dessins sont la continuation d'écritures manuscrites qui reflètent les voix de ses pièces sonores ou de dialogues mémorisés.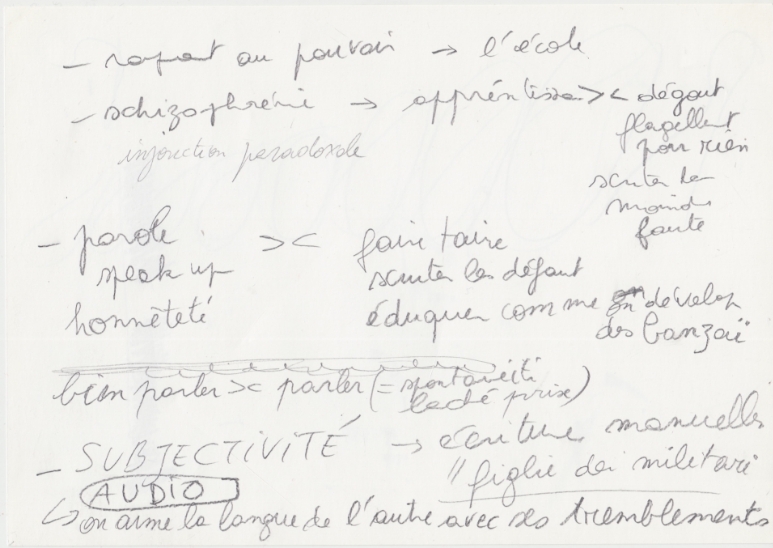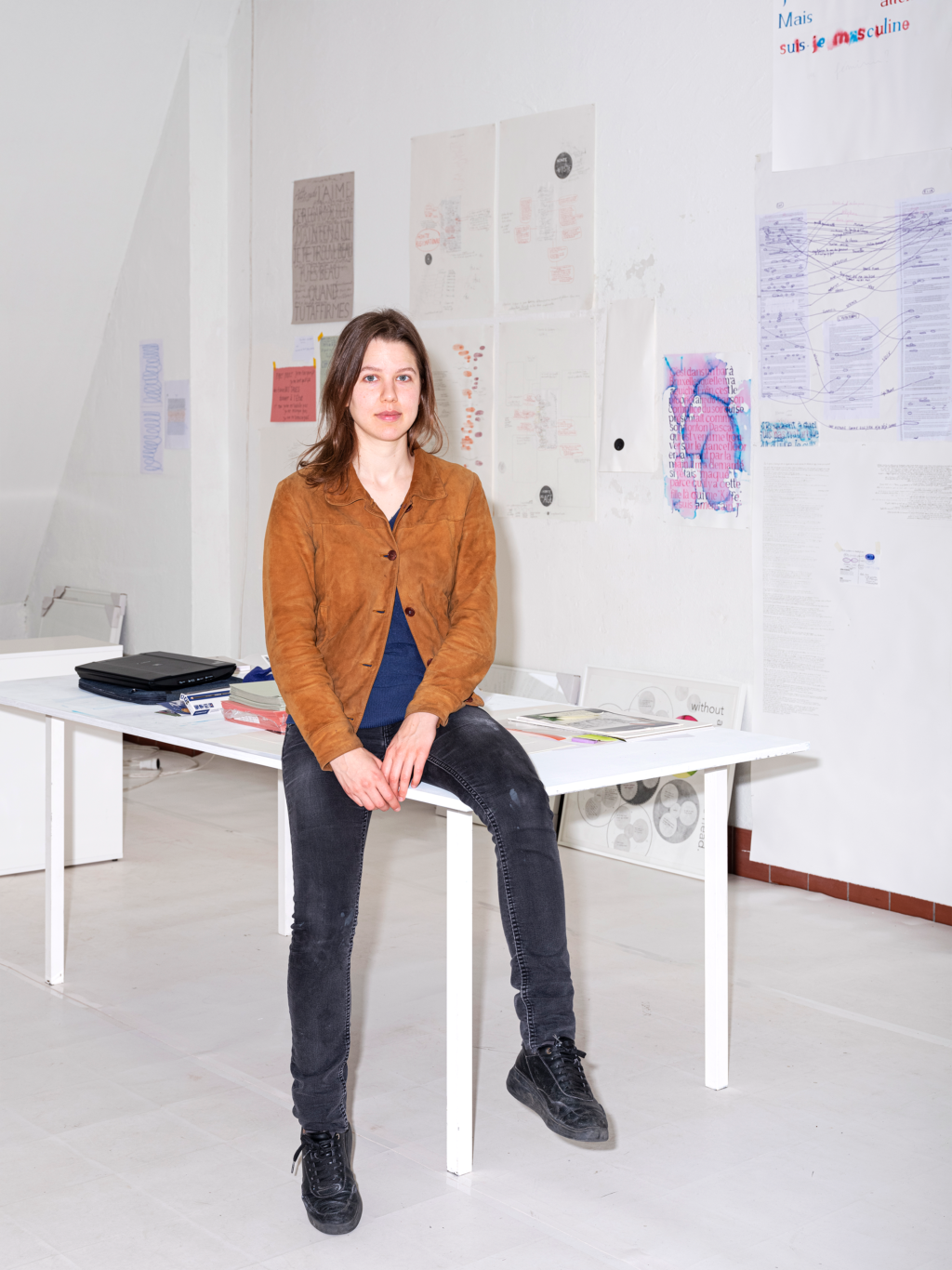 To Read

Article à propos de la série You Gold, de Jean-Michel Botquin sur le blog de la galerie Nadja Vilenne

To Buy

Taalbarrière book (A4, 68p, color, 25 €) is on sale in your bookshop:
[BRUSSELS] Rile*, Saint-Martin bookshop, WIELS bookshop, Les yeux Gourmands, Peinture Fraiche [LEUVEN] Barboek in M  [LIEGE] Le comptoir, Livre aux trésors  [EUPEN] IKOB bookshop  [OOSTENDE] De Witte Zee  [GENT] Copyright  [ANTWERP] Copyright  [BUY IT ONLINE] IKOB online shop [ROTTERDAM] Huidenclub

To Listen

Interviews sur l'oeuvre Taalbarrière

To Read

Article sur Taalbarrière:
— "Le conflit linguistique sur le papier " par Aurélien Berthier pour Agir par la culture

To Listen

Conversation avec Jean-Philippe Convert sur la série Mélatonine – podcast du WIELS

To Read

Articles à propos de l'exposition Regenerate:
— "Regenerate au Wiels fait tomber le masque sur notre vie d'après" par Xavier Ess pour RTBF
— "Au Wiels, des artistes nous montrent l'après-covid" par Guy Duplat pour La Libre
— "Regenerate»: un nouveau souffle pour redémarrer" par Jean-Marie Wynants pour Le Soir

To read

"Exploration en polysémie" Article de Sandra Caltagirone pour L'Art Même p.26 du pdf

To Listen

Présentation de mon travail de dessin autour de l'analyse du roman 'Infinite Jest' dans Ohne Titel de Radio Panik à partir de 00:30:05
Resume
Group & solo shows
| | | |
| --- | --- | --- |
| 2023 | Antwerp, BE | Lichtekooi 'De overwinning op de dingen. Over sport' |
| 2022 | Veurne, BE | EMERGENT nodigt uit - Galerie Nadja Vilenne |
| 2022 | Antwerp, BE | Galleries Show II - Galerie Nadja Vilenne |
| 2022 | Eupen, BE | IKOB Feministischer Kunstpreis 2022 |
| 2021 | Brussels, BE | HISK laureates 2020-2021 |
| 2021 | Brussels, BE | Atelier Arthur Rogier 'Trois Vies' |
| 2021 | Brussels, BE | WIELS 'Regenerate' |
| 2021 | Gent, BE | MEER collective 'Niet gelukkig hier' |
| 2021 | Arnhem, NL | Sonsbeek 20 > 24 |
| 2020 | Brussels, BE | MRBA-KMSKB Art Cares Covid – Inside Out |
| 2019 | Rixensart, BE | Kamer Negen 'Home System' |
| 2018 | Mons, BE | Mundeanum 'Les 20 ans du Mundeanum' |
| 2017 | Brussels, BE | Vanderborght building 'Art Contest 2017' |
| 2017 | Liège, BE | La Boverie Espace Jeune artiste |
| 2015 | Liège, BE | SPACE collection 'Ciel !' |
Residencies
| | | |
| --- | --- | --- |
| 2017 | Milano, IT | Viafarini |
| 2018 | Pau, FR | Bel Ordinaire |
| 2018 | Brussels, BE | iMAL |
Magazines
| | | |
| --- | --- | --- |
| 2022 | Gent, BE | KIOSK's Linda Nochlin Fanzine |
| 2022 | Antwerp, BE | TIM n°4 Jealousy |
| 2020 | Gent, BE | Kluger Hans n°39 Algorithms |
| 2020 | Paris, FR | Revue Roven N°15 |
| 2019 | Turin, IT | Archivio magazine n°4 The Unreal issue |